Emerald Armor
The Emerald Helmet gives you 1.5, the Emerald Chestplate 4, the Emerald Leggins 3 and the Emerald Boots give you 1.5 armor points (The same as the vanilla diamond armor).
If you're wearing the whole armor, you'll get those effects:
Recipes
Craft them like the vanilla armor.
Just switch out the material with emeralds.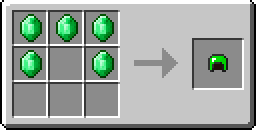 Ad blocker interference detected!
Wikia is a free-to-use site that makes money from advertising. We have a modified experience for viewers using ad blockers

Wikia is not accessible if you've made further modifications. Remove the custom ad blocker rule(s) and the page will load as expected.